A hands-on approach combined with many years of experience, enables us to design innovative, functional, and cost effective solutions for our clients.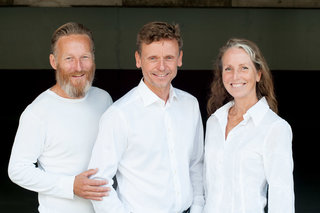 The Torsteinsen Design team consists of husband and wife, Fredrik Torsteinsen and Solveig Torsteinsen, and Vidar Øverby. Collectively holding 60 years of design experience, the three also have backgrounds in furniture making, carpentry, and textiles. With a studio forever filled with prototypes and models, ours is a hands-on approach. Products are inspired by the functional yet organic shapes of the Scandinavian design tradition and strive to be both beautiful and utilitarian.
Torsteinsen Design has received numerous notable awards, among them 9 Awards for Design Excellence from the Norwegian Design Council. We have exhibited extensively abroad, served as board and jury members for various Norwegian design institutions and worked with a wide range of furniture manufacturers.